Considering the environmental urgency and the ever-growing need for clean and renewable energy, as well as the political and legislative pressure the European Union is exercising on its member countries, it is no surprise to see the solar energy industry constantly growing and evolving. Solar panels are not only gaining more and more market share over the more ?traditional? (a.k.a more polluting) energy sources but are also seeing some exciting technological advancements and new uses.
Solar panels ? the latest statistics in EU countries
According to the EU Market Outlook For Solar Power 2020 ? 2024, published by the SolarPower Europe Association in December 2020, the global economic crisis caused by the COVID-19 pandemic has taken its toll on the solar energy market to a much lesser degree than on other industries.
Even though its rapid growth did slow down compared to the pre-pandemic trends, it only fell short of the previous forecasts by 12%. 2020 alone saw a non-neglectable 11% increase in deployment of solar projects in most of the EU countries. That?s definitely a result other markets would gladly die for!
SOLAR PANELS IN EUROPEAN UNION ? OVERVIEW:
? Some of the key manufacturers: REC Group (Norway), Kioto Solar (Austria), PhotoWatt (France),
? The cumulative installed solar power capacity rose by 15% (to 137.2 GW) in 2020.
? 18.7 GW new PV added in 2020 on the EU territory.
? Germany still positions itself as the largest market (4.8 GW new PV installed), followed by the Netherlands (2.8 GW), Spain (2.6 GW), and Poland (2.2 GW).
? The contribution of other EU countries is on the rise.
? The additional growth forecast is 22.4 GW for 2021, 27.4 GW for 2022, 30.8 GW for 2023, and 35 GW for 2024.
? The labour market in the solar panel sector is projected to recover and amount to 174,682 full-time jobs by 2021.
? The member countries project an average of 19.8 GW/year solar growth in their National Energy and Climate Plans for the next decade.
What makes the future look even brighter for solar panels is also the latest EU?s recovery plan, whose details are contained in the 2021-2027 long-term Budget and NextGenerationEU.
The plan is not only a strong confirmation of how important it is for the EU to keep its recovery and progress as green as possible, but it also allots an impressive amount of money for the so-called Recovery and Resilience Facility that will advocate for and promote clean and renewable technologies in energy sourcing.
What?s new in solar technology?
When the first technological solutions to retrieve energy from the sunlight (solar cells) appeared on the market back in the 1955s, they were seen as pretty futuristic and niche rather than mainstream. Coal, oil, and natural gas stood strong, and very few were talking about their ecological impact.
However, in the decades that followed, the game rules have changed dramatically, and the technological advances have allowed the solar panel industry to boom. Today, with our climate almost at the point of no return and voices promoting clean energy getting louder and louder, Europe is entering a true solar power era. PV energy is becoming cheaper, user-friendlier, more efficient, and more versatile than ever.
The most recent trends on the PV solar market include:
New materials
Building Integrated Photovoltaics
One of the factors that are commonly taken into consideration when choosing the preferred energy source is aesthetics. What are those panels going to look like on my house or building? Will they combine with its overall aesthetics? After all, the original design did not contemplate them.
More than once has the aesthetic issue hindered the final decision of whether to install solar panels or use a more traditional energy source.
Today, the Building Integrated Photovoltaics (BIPV) concept makes that dilemma way less necessary, as it allows architects to include customized solar panels in the original building plans and use them as building materials. In this way, panels can be fitted not only on rooftops but on other parts of the building (such as facades, glazing, terraces, etc.) in a way that does not break its overall aesthetics.
In terms of technology, the BIPV market in Europe can be divided into:
crystalline silicon (C-Si) solutions ? with the largest share thanks to their superior strength, resistance to weather conditions, and cost-efficiency.
thin-film solutions ? greatly reduce the weight of solar panels, which finds important demand in buildings that have weight constraints.
other solutions, such as dye-sensitized (DSC) and organic photovoltaics (BIOPV)
The advantages that come with the BIPV technology (better energy efficiency, increased thermal and sound insulation, lower O&M costs, and zero carbon footprint) allow for a very positive growth forecast.
The key market players (namely AGC Inc., Heliatek GmbH, ISSOL SA, Tesla, or Canadian Solar) have a good reason to celebrate.
Solar Skins
The revolutionary solar skin technology comes hand in hand with the BIPV concept, promising to turn dull and black panels into art pieces and multiply their deployment possibilities.
The concept of solar skin refers to a very thin and flexible sheet infused with billions of colloidal quantum dots (tiny, photoelectric semiconductor particles). When illuminated by UV light, the electrons of those light-sensitive nanoparticles get excited to a state of higher energy and generate power. The researchers of the University of Toronto have discovered that the n-type semiconductors are capable of working outdoors, which has always been a problem for other types of materials.
Now, imagine you have a solar skin sheet in your hands. What can you do with it? Its market potential is enormous. Not only can you print them with designs (e.g., imitating the roof tiles) that will effectively hide those black panels from the eye view, but you can also place them on benches, utility poles, or any kind of bendy surface, use them as advertising panels, window ad wraps custom artworks and many others.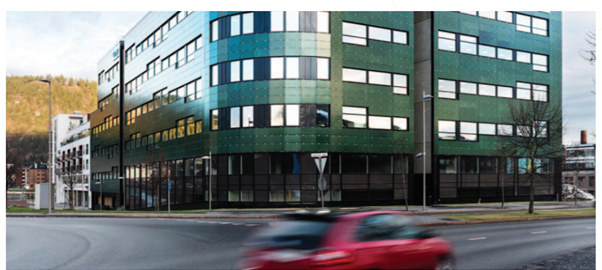 While improved aesthetics and the rail-less racking systems are certainly some of the main advantages offered by solar skins, let?s not forget about their surprisingly good results in conversion efficiency, especially after the University of Queensland engineers managed to raise it to 16,6%.
How about the cost? According to the report published by SolarPower Europe under the title: ?Solar Skins: An opportunity for greener cities?, solar skins and other BIPV materials in roofs are quite pricier than simple classic materials. However, in most cases, this extra cost is totally compensated by the additional electricity produced.
Transparent solar panels
Energy generating windows? Why not! Photovoltaic glass is a cutting-edge technology that is taking the solar panel industry to a whole new level and remains closely related to the building-integrated photovoltaics trend.
Transparent PV cells have the potential to turn any glass sheet into a power-generating device and are starting to get deployed in a big variety of settings, from windows to car sunroofs to mobile electronic devices.
You are probably wondering how a transparent cell manages to absorb any sunlight instead of letting it all pass through. Well, it is the transparent luminescent solar concentrator (TLSC) that does the trick.
This technology uses organic salts in order to capture specific invisible UV and infrared light wavelengths and then makes them glow as a different invisible wavelength. This new luminous wave is then redirected through clear plastic embedded with ultra-thin photovoltaic strips.
Even though the efficiency estimates for transparent solar panels are far from impressive (10% only, as compared with 15-22% in the case of traditional panels), its deployment potential is huge, and the production costs are relatively low.
Who manufactures transparent solar panels in Europe? The Dutch company Physee is the pioneer. Its line of SmartSkin windows allows for up to a 30% reduction in energy consumption.
Perovskite Solar Cells
Another example of the so-called 3rd generation thin-film PVs is the novel technology based on perovskite, a material that some consider the future of solar panels.
What exactly is perovskite? In nature, it exists in the form of a mineral called calcium titanium oxide (CaTiO3). However, science adopted the name for any material whose structure is similar to that of CaTiO3.
In the solar industry, the most commonly used perovskite-like material to act as the energy-harvesting layer is a hybrid organic-inorganic lead or tin halide-based material.
Why there is so much interest raising around perovskite-layered solar cells? It?s all about the exciting properties of this material, namely:
superconductivity
high low-light performance
ability to absorb light across almost all visible wavelengths, thus very promising power conversion efficiency (20%+)
low manufacturing difficulty (good cost-reduction potential)
enough flexibility to allow for a free-form design
semi-transparency
lightweight

Despite such great potential, perovskite solar cells are still at the early stage when it comes to their commercialization, as there are still certain drawbacks that need to be solved (especially toxicity of its break products as well as lead pollution concerns).
One of the most relevant perovskite players on the European market is a Polish company Saule Technologies that specialize in producing perovskite solar cells printed on thin, flexible substrates at low temperatures.
Planar Optical Micro-Tracking Technology by Insolight
Insolight is a young Swiss company that has developed and patented a unique technology that applies hexagonal lenses in the protective glass that coats solar panels. Its purpose is to concentrate light and increase conversion efficiency.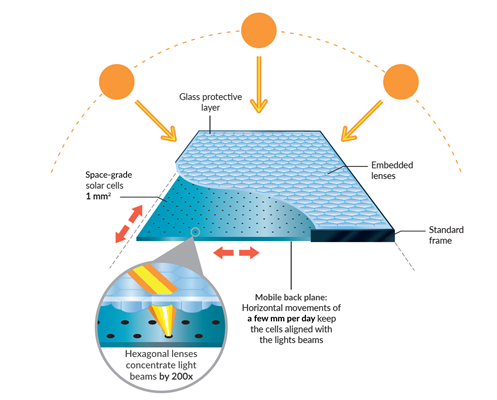 The first results are exceptional (30% efficiency for sun-to-electricity conversion), which promises a much higher return on investment. According to Insolight calculations, the panels manufactured with their technology should bring 40% more earnings for solar developers and savings for the consumers on rooftops.
Insolight panels claim to be easy to mount and reliable, resistant to extreme weather conditions, and immune to partial shading. They also allow for dynamic regulation of the transmitted sunlight and can be switched from an Electricity generation mode to a Maximum Light Transmission mode (the so-called smart translucency).
Apart from rooftop PV, another interesting potential use for the planar optical micro-tracking solar modules (THEIA) is agriculture, where ? according to the manufacturer ? the agrivoltaic installations should increase energy production by 160% while maximizing yields.
New Uses and Concepts
Floating solar farms / Floatovoltaics
Solar panels installed on waterbeds is a new trend that first appeared in Asia and Europe is now making its own. Their principal advantage is maximizing the use of space, which ? on our continent ? is becoming more and more scarce.
The largest European floating park was deployed by a German company BayWa r.e. in 2020 on an artificial lake close to Zwolle, Netherlands. It combines 73 thousand solar panels, 13 transformers, and over 300 inverters and promises to be part of a real eco-energy revolution.
Today, it already covers 6% of Zwolle?s energy needs and reveals a novel and revolutionary energy solution for other European countries with little land availability.
Another bold example of a floating solar farm is the 2019 Lac des Toules Lake (Switzerland) project carried out by Romande Energy. Located at an altitude of 1810 meters above sea level, it is composed of 2240 m2 solar panels.
What comes with such high altitude and mountain surroundings where the solar radiation is much stronger is an increased efficiency potential (estimated at 50% more than for lower located panels).
How about the environmental impact of floating solar farms? The studies conducted so far indicate it?s rather low. In the case of Zwolle, the change in the lake water oxygen level has only decreased slightly, thanks to the fact that wind and sunlight can still reach the water under the panels.
What?s more, the solar panels deployed on the lake surface reduced the wind activity, which has led to smaller bank erosion thus protecting and stimulating vegetation.
Let?s name a few other benefits:
installation cost is lower than for land-based PV panels,
power production is up to 10% higher because of the cooling effect of water,
reduced water evaporation,
noxious algae elimination, which lowers water treatment cost,
improved water cleanliness.
Photovoltaic solar noise barriers (PVNB)
Another interesting trend in solar panel application is undoubtedly the idea of incorporating them in the urban landscape as a component of highway and road noise barriers – whether already existing or planned.
With less and less space remaining for solar energy harvesting, the photovoltaic noise barrier system is nothing short of the proverbial ?killing two birds with one stone?. It allows cities to mitigate acoustic pollution while increasing their clean energy production and reducing their CO2 emissions.
Of course, the final impact of the PVNB barriers depends on several factors, such as the number of dust particles in the area and the effective exposure to sunlight (orientation and tilt). The latter one is currently being successfully addressed by installing bi-facial solar panels that can produce 30% more power on an annual basis than standard white-back sheet modules.
An example of the PVNB real-life application is Rijkswaterstaat – a LIFE Solar Highways project deployed in the Netherlands. Its main objective was to demonstrate the technical feasibility and the environmental, social, and financial benefits of integrating solar panels with noise barriers.
The 18-month monitoring period (Jan 2019 ? June 2020) brought about optimistic results:
additional energy production of 325.5 MWh (enough to provide electricity for 60-70 households)
an annual 121-ton reduction in C02 emissions
reduced cleaning costs
high level of acceptance from the local community and authorities
Molten Salt Storage Technology
Since the very introduction of solar technology, scientists and researchers have been cracking their brains over the storage issue. It?s one thing to generate energy from the sunlight and a totally different thing to be able to preserve the unused power for later.
While solar power storing batteries have been on the market for a while now, they are all rather inefficient and pricey and their shelf life isn?t long enough. Luckily, it looks like we might just be witnessing a breakthrough.
Molten Salt Storage Technology is a promising solution developed by the German company Novatec Solar. The technology uses inorganic salts in order to transfer energy generated by solar panels into solar thermal. Yes, we?ve already seen that being done with oil, but Molten Salt heat transfer fluid instead, making it way greener.
Solar plants that use Molten Salt Storage technology are able to function at over 500 degrees Celsius, thus generating much more power. That, in consequence, offers a huge storage cost reduction, that both utility companies and consumers will surely appreciate.
Example of a 1000?MWhth two-tank molten salt storage system of a concentrating solar power plant in Spain
Credits: Andasol 3
Artificial intelligence and Machine Learning in Solar Panels
Artificial intelligence (AI) and machine learning (ML) offer the solar panel industry unprecedented possibilities to collect and analyse data, optimize performance, and make accurate forecasts in order to minimize emergencies.
A good example of how AI can benefit solar panel users is smart built-in meters, which can not only help reduce overall energy consumption but also record changes in weather conditions. Machine learning makes it possible then to predict possible meteorological emergencies with the use of various forecasting models and adjust panel settings automatically.
Different types of AI solutions can also be used to manage power grids or storage units more efficiently.
On the other hand, equipment automation is helping to reduce the maintenance and cleaning times and drone technology applied to panel inspection decreases the workforce needs.
Solar technology has become an inseparable part of our life and one of the essential tools we have to protect our planet from the climate disaster we have brought on ourselves. Modern solutions like the ones described above, along with even more futuristic ideas ? such as solar space technology for example ? are helping to make solar panels more and more affordable and incorporate them even better in our daily life. Green energy is not an option anymore, it is a must.